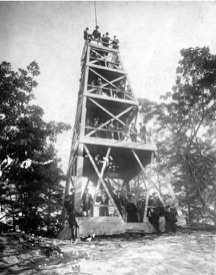 Viewing this landmark requires a bit of a hike on an unfinished path occasionally interrupted by tree roots. To access it, cross the bridge over Burma Road and walk past the last cottage. You'll find the beginning of a path marked by tree branches laid on the ground. Climb until you reach a clearing atop Mount Epworth. There you will find Marker #10.
The Observatory, pictured above, was completed for that very first 1894 season. It was situated on the highest hill on the grounds, which was quickly named Mount Epworth. The tower had four platforms, each a bit smaller than the one below. To get to the top, the intrepid climber needed to hike up 100 steps. But the view was fantastic, including Pere Marquette Lake and the Ludington harbor to the south, Lincoln River and Lincoln Lake to the east and a glimpse of Lake Michigan beyond the treetops to the west.
This was an early attempt to attract more tourists, but the construction was not equal to the high winds at the top of the hill. It lasted only until the first severe winter storm. During the 1920s and 1930s, the site was often used for various informal gatherings, but the tower was never rebuilt.