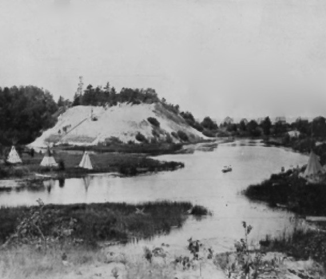 As you continue southeast along Burma Road, you will see marker #2 on the right, just before the turnoff to Happy Valley Road. Up above, where the cottage Brigadune now stands, is part of what used to be called Little Baldie.
Little Baldie was the "younger brother" of the towering dune farther north that was sold and mined away during World War I. For the first fifty years of Epworth, Little Baldie was the scene of many picnics and overnight hikes, Indian Pageants, and other dramatic productions. If you look closely at the picture below, you'll see teepees erected for the 1911 Indian Pageant. The view is looking west down the Lincoln River, and the teepees sit where the current Riverside and Sails Call cottages are built.
After World War II, a good portion of the north side of Little Baldie was bulldozed away and used to create the roadbed for Burma Road and fill in the marina. The remaining sand hillock was leased and is the site for the current Brigadune cottage.