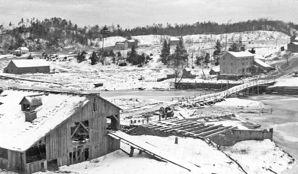 Marker #1 can be found on Burma Road at the entrance to the boat storage area. Looking north, you will see where the buildings shown above once stood. The sawmill, on the south side of Lincoln River, was connected to the little village by the road that ran across the top of the dam. The tallest building in the village was the three-story boarding house. At the peak of the town's prosperity, 500 men worked in Lincoln and many of them ate and slept under its roof. There was also a general store, a schoolhouse, a courthouse, and a jail.
The village, originally named Little Sable, was founded by pioneer and lumberman Charles Mears. He purchased the land in 1847. After damming the river, he built and opened a sawmill in 1851. The entire concern washed away over the winter, but he rebuilt and added a grist mill as well. In 1860, Mears was elected to the Michigan Senate, and shortly after that he changed the name to the Village of Lincoln and moved the county seat there.
In 1859, lumber baron James Ludington bought a large area that included what is now Ludington Harbor. Ludington offered to lease the small mill situated there to Mears if Mears would improve the harbor access. Mears jumped at the chance to expand but soon realized that the harbor improvements were at the expense of his business in Lincoln. In 1870, he sold all interest in the Lincoln mill to Pardee, Cook & Company. When the dam washed out in 1873, the mill pond had enough backlog to keep the mill running for a few years, but by 1880, the Lincoln mill was closed.
When the first Epworthians arrived in 1894, only the schoolhouse and three homes remained of the abandoned village.