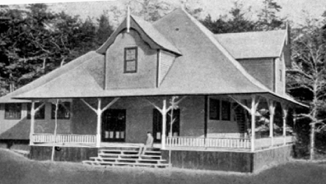 Behind you on the southwest end of the parking lot is the Frog, Toad and Turtle Race area or "Turtle Downs." Nearby is Marker #8, which stands at the location of the first Administration Building.
Justus S. Stearns, the well-known Ludington entrepreneur, was a very ambitious thinker during the early years of Epworth. In 1901, he began his ten-year stint as the manager of the hotel, restaurant, and grocery store. In 1902, he noted the need for an administration building near the hotel and saw to it that one was built. The Executive Secretary's offices were at the west end and the remainder of the building was an assembly room—annual Cottagers' Meetings were held there until 1942.
When the Pavilion burned to the ground in 1943, meals had to be served somewhere close to the Hotel and its guests. The offices were moved to what is now Nokomis cottage, and the Administration Building became a dining facility. When the Marine Dining Room opened in 1948, offices returned to this location, where they remained until it was decided that the building had outlived its usefulness. It was torn down in 1961.
Business offices were moved to the Depot until 1970. At that time, a new building was constructed between Lincoln Lake and the road into Epworth. Severe flooding in 1986 forced the office staff to relocate to the Hotel lobby for several weeks. Clearly, this location was not the best long-term solution. But it wasn't until the winter of 2009 that the current office building was constructed, with an eye to comfort and efficiency for the coming decades.